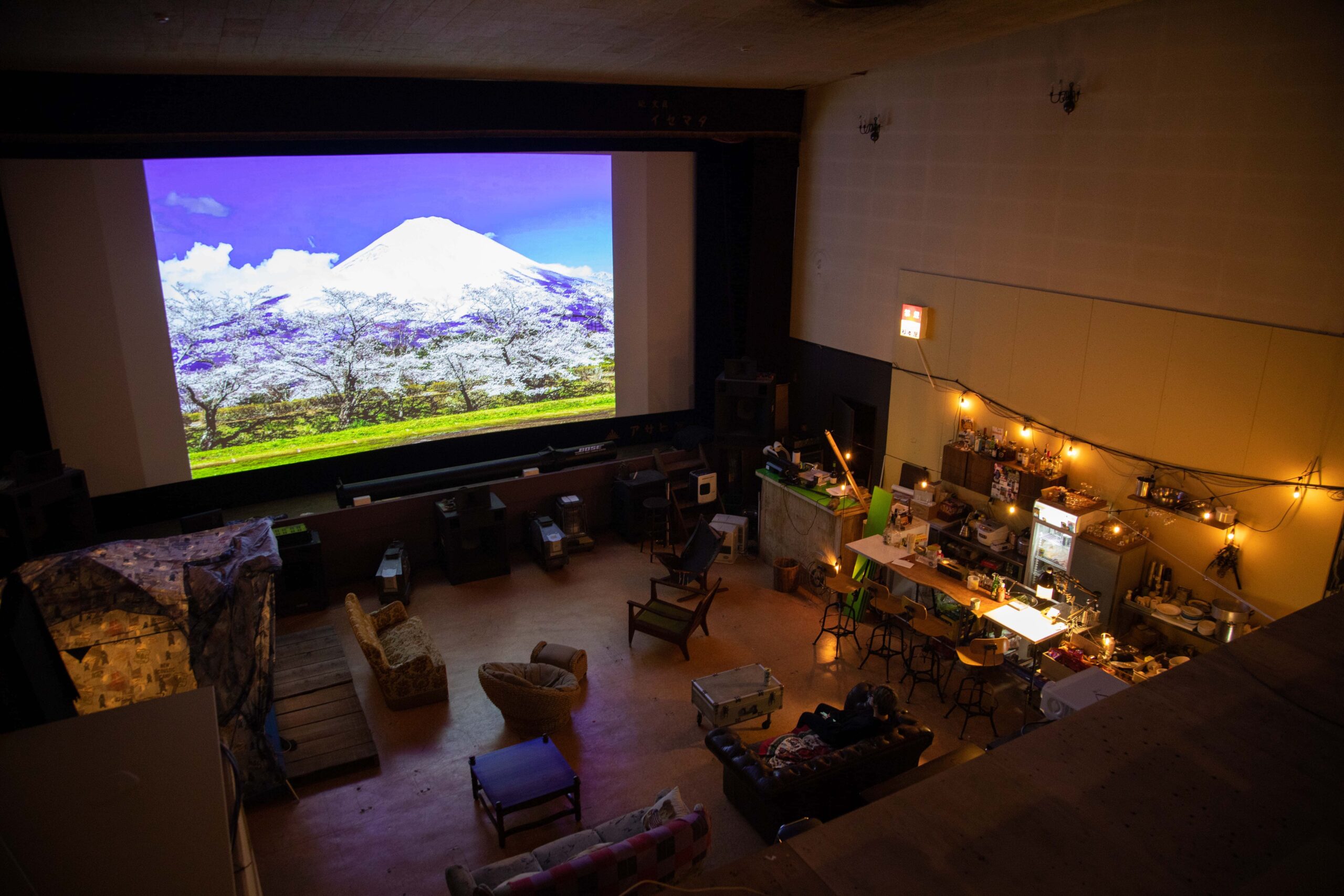 noctarium/MountCinema
ABOUT US
レトロな映画館の中にある小さな宿泊施設です。
1日1組限定、最大8名様までご利用可能
お子様連れもOK
館内はDIYで日々変化しています。
万人向けではないけれど、誰かにとっては特別な場所になるかもしれない、そんなタイプのお宿です。
詳細はインスタグラムや各種予約サイトをご確認ください。
ご予約はインスタグラムのDMでも大丈夫です。
直接ご連絡いただいた方が融通ききます。
しっとり過ごす系の宿なので大学生のグループとかはお断りします。
A small accommodation in a movie theater.
・All made by DIY
・Family-friendly
・Easy access to the Mount Fuji, Premium Outlets, Hakone and Fuji Five Lakes
Our accommodations are exclusive to a single group of patrons per day.
Accommodates up to 8 guests.
Enjoy the opportunity to get away without distraction in the privacy.
Historic movie theater called the Mount Cinema. Closed in 2012, reopened in 2020 as a movie theater where you can stay.
Hotel with Four private rooms and a Movie theater with 300-inch screen. All facilities are yours to use.
For more details, Please check Instagram and reservation sites below.
Reservations are also accepted via DM on Instagram.
I wish I could give this stay 6 stars. Kosuke was the nicest airbnb host I have stayed with in my 7 years using this app. The place is incredible... read more and the pictures do not do it justice. This man has done a wonderful job reconstructing this beautiful theater into an incredible inn. The place is spotless, and he has all the amenities you will need for your time there. He is so kind and helpful, coming to help us when we were lost getting to his stay, and even sharing great places to eat and see while in Gotemba. The stay is 3 minutes from the train station which is super convenient for traveling from Gotemba, or even taking the bus up to Mt Fuji for a hike. There are plenty of onsen(thermal baths) near this stay, so you can really do it all from this area. He even offered us bikes that we used to coast around the area. Besides the stay, Kosuke is a very kind person, and I plan to return here in the near future to see how his work on this theater has progressed.

Gianluca


8/13/2023

Really cool space to have a chill night in. Very impressed with Kosuke's DIY, can tell it's a great passion project. Kosuke was responsive and very accomodating with check-in and... read more recommendations around town. Would be great to go with a group of friends but also very special just the two of us. Would definitely go back! Thanks Kosuke

Sophie


7/12/2023